The latest cashew product line on sale of China supplier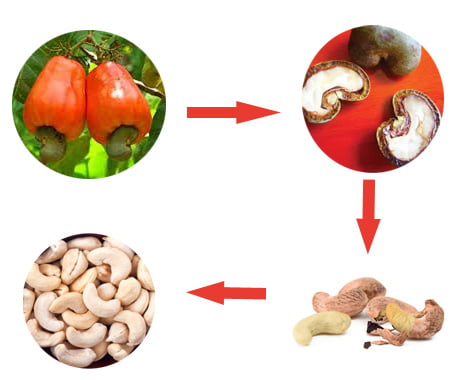 Brief introduction of cashew nut
Cashew is native to America, who is rich nutritional value. Cashew can ingredient for cuisine cooking, and also can be applied medicinally.
Its edible part is the kidney-shaped part that grows at the bottom of false fruit, it can grow up to about 25 millimeter, when raping it turns from livid to tawny, within the hard fruit shell, there is kernel, which contain large quantity of fat that mainly is adipose following by carbohydrate and protein.


(1) To remove debris by cashew vibrate separator: the cashew nuts with shell were first selected by vibrating screen equipping air sorter, removing the hollow nuts, branches, leaves and fruit fibers. And have debris and rocks discharged by adopting water immersion and stirring method.
(2) Grading by cashew grading machine: the cashew nuts with shell after removing impurities and after being dehydrated naturally are graded according to size, then divided into three grades: large, medium and small.
The graded cashew nuts are put into corresponding barrels or packaging bags;
(3) Steam heating by cashew cooking machine: arrange the graded cashew nuts in a high pressure steamer with clean water for steaming heat;
(4) Quick cooling: take out the cashew nuts with shell after heating and immediately put them into the refrigerator with the temperature of 4-101: for 1 to 3 days;
(5) Husking by cashew cracking and shelling machine: the cashew with shell after heating and cooling is processed by the fully automatic cashew cracker. The gap between cracking blades in the cashew crusher can be adjusted according to the size of cashew with shell.
(6) Sieving: the weight of shell and shell scraps is less than that of cashew kernel. The cracked shell and nut are separated by vibrating screen and air sorter.