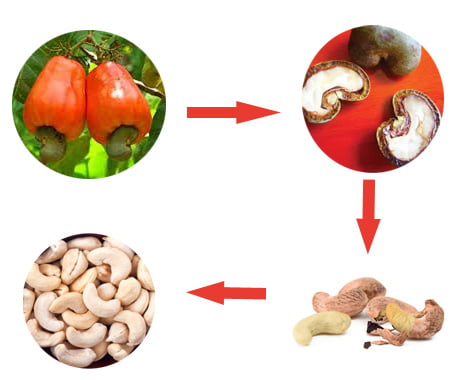 Traditional cashew cracking shelling method
The traditional method of cracking roasted cashew nuts manually, using harmer or knife cutter is labour-intensive, slow and tedious; besides, due to the toxic character of uncooked cashew nut, the cashew processing is do harm for workers for the toxic liquid exuding can cause inflammation, allergic reaction, which can be lethal. Although the old cashew nut sheller are mechanical crackers do not give satisfactory results in terms of whole kernels percentage. A prototype machine was developed to crack roasted cashew nuts.
Advanced cashew nut cracking shelling machine
The automatic cracking and shelling machine is invented and developed by Shuliy after doing technical, scientific researches, considerable design, and laborious test ran on the sheller machine. Therefore the cashew nut shelling machine Shuliy offering is of reliable design with efficiency, quality ensured, low maintenance, low damage rate, and low energy consumption. Shuliy's cashew shelling cracking machine has been exported to markets overseas, and is widely appreciated by their customer at home and abroad.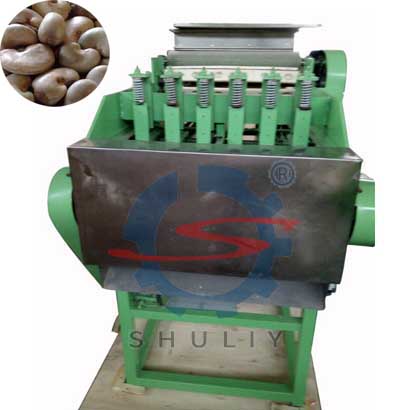 Working method of Shuliy's cashew nut cracker sheller
Full automatic processing method: after separating cashew nuts into 3-5 grades (18 mm.20mm.22mm.24mm.26mm) manually or by the combination of Shuliy's cashew nut processing line, then the feeding action is completed automatically; Cashew nuts with different sizes fit in the circular slots perfectly, then been conveyed to the cracking chamber, in which cashew unshelled will be compressed by the gearwheel motivated by powerful rotor; finally, the cracked cashew will discharged through the outlet with cashew shells.