Cashews nut size classification using a novel machine
With the rapid development of economy in China, people's living standard has improved profoundly, along with the catering industry, including snack food, Chinese cuisine, and western cuisine. People who live a better life are leading a healthy lifestyle, thus nuts with rich nutrition contents won appreciation from its customers from whole world. Cashew nut as the most mysterious nutritious food is originally native to southwestern Brazil has made its way into all continents all over the world. But did you ever see a raw cashew nut? Actually, cashew nuts are at the bottom of the cashew apple, also known as the fake fruit of cashew, tastes sweet and is taste stimulating, while the main market crop is the cashew nut for the cashew apple is too fragile to ship, which will never be on the market shelf. With the large demand of cashew nut, an effective cashew production line is highly required. Shuliy Machinery, as most famous one-stop enterprise, who is supported by the scientific researches, specific design, professional manufacture of their professional group, has won the appreciation from their customers at home and aboard.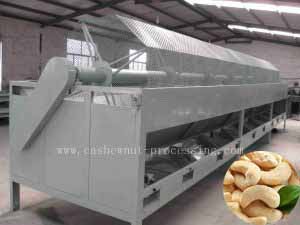 Among the cashew processing line, the continuous large cashew nut sorting classifying machine can process cashew nut within width 18 mm 20 mm 22 mm 24 mm and 26 mm.  With it large capacity and output, it is the perfect equipment for the large-scale cashew nut processing factories.
For more details, please contact us!