Cashew Processing Machine for Cashew Processing
Cashew nuts have rich nutritional value. They can be used for cooking and medicine. They are one of the four famous dried fruits in the world. The shell is hard, and the cashew nuts inside are sweet and contain high calories. So, many people like cashew nuts. But do you know how to peel cashews? Here is the cashew processing line.
Processing of cashew nut
Cashew processing: the first step is drying: cooking or baking and drying to separate the kernel and shell. The second step is shelling. Then the nuts are dried. The fourth step is peeling. The fifth step is grading and dehumidification. Finally, packaging.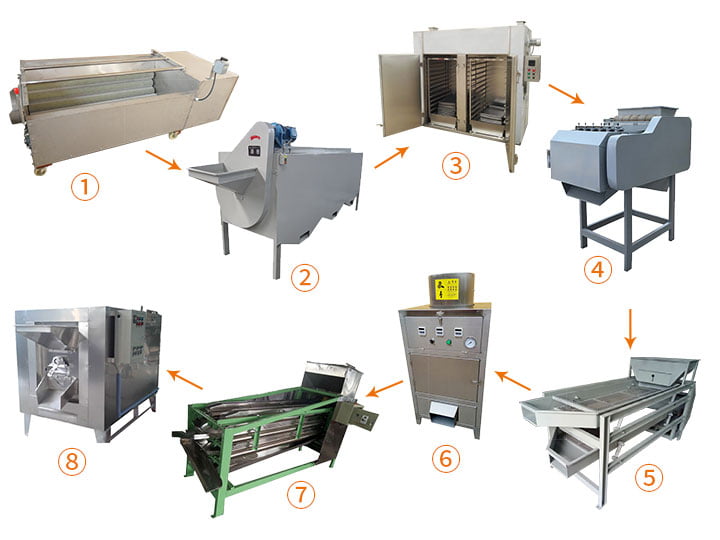 Cashew processing equipment for cashew processing
Cashew processing equipment mainly includes cashew cooking machine, cashew dryer, cashew grader, cashew nut shell removing machine, cashew peeling machine, and cashew packaging machine.
Main processing steps of cashew nuts
High-temperature fumigation
There is a hard and thick green shell outside the fresh cashew nut, which is toxic. The skin will show allergic symptoms after contact. First, the cashew nuts with shells should be fumigated at a high temperature in a boiler over 100 ℃, through the process of disinfection, pest killing and sterilization.
Automatic drying
The new cashew nut dryer uses the principle of an air energy heat pump. According to the characteristics of cashew nuts with shells, remove most of the water from cashew nuts with shells in the drying room until the shells crack.
Shelling and peeling
For the dried cracked cashew nuts, the cashew nut kernels can be obtained by cashew nut shell removing machine or professional manual shelling and peeling process. The appearance of the cashew nut shell removing machine has greatly improved the processing efficiency of cashew nuts.