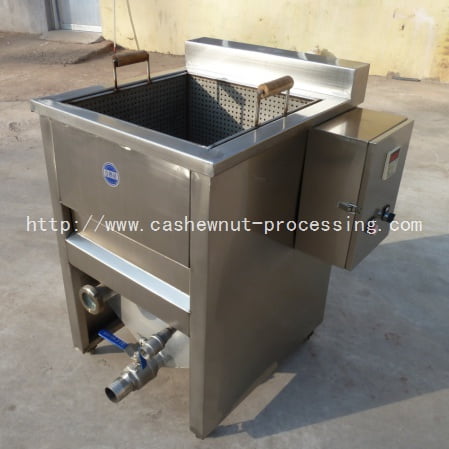 A brief introduction to Multi-functional Cashew Fryer/ Blancher
The Multi-functional Cashew Fryer/ Blancher is essential equipment in the flavored cashew nut production line. Due to its toxic feature, the raw cashew shall be pre-processed through the blanching. The cashew fryer, Shuliy invented and developed is an all-in-one product, which can reach the blanching of cashew according to production requirement, meanwhile, achieve the role as a fryer. After shelling and peeling, the blanching of cashew nuts can sterilize harmful bacteria on the surface of the raw cashew to prevent raw materials from infection and pollution thus ensuring the quality of the final product.
The scope of application of Multi-functional Cashew Fryer/ Blancher
The small-sized frying machine can be used as a stand-alone machine. Due to its versatility and ease of transporting the frying machine is widely applied to and suitable for small- or medium-sized snack food factories or individual business including fast food restaurants, canteens, dining hall of the government institution, school or hospital. The unique designed frying equipment can produce a variety of fried food and street food including fired chickens, donuts, fried onion rings, French fries, and flavored cashew nuts, etc.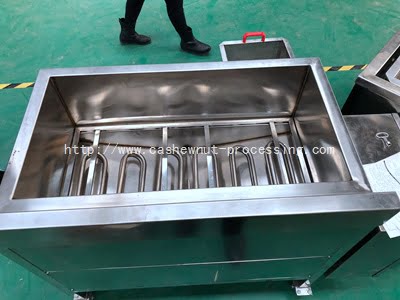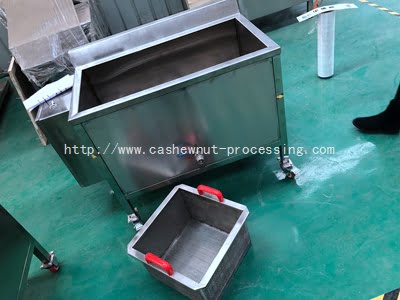 The structure of Multi-functional Cashew Fryer/ Blancher
The cashew fryer who is compact in the structure is composed of thermometer and control system, well-sealed electric control cabinet, frying/blanching tank (number customizable), heating duct, water inlet, water outlet, and sewage outlet. The cashew fryer is of SUS304 construction.
The advantages and features of Multi-functional Cashew Fryer/ Blancher
The size fryer/blancher can be customized according to customer's business scale or requirement on output;
The frying basket is made of stainless steel with less weight than the traditional ones selling in the current market. It is designed easier to be lifted, which relieves the burden on operators;
The heating tube is made thicker and stronger to ensure a prolonged service life;
The water-oil separating design eliminated the trouble of polluted frying oil leading to charred cashews;
The well-sealed controlling cabinet ensures the save working during the frying process.
Parameters of Multi-functional Cashew Fryer/ Blancher:
| | | | |
| --- | --- | --- | --- |
| model | power | Oil tank capacity | diameter |
| 500 | 12kw/380v | 500x500x400mm | 700x700x950mm |
| 1000 | 24kw/380v | 1000x500x400mm | 1200x700x950mm |
| 1000A | 27kw/380v | 1000x700x400mm | 1400x1050x1400mm |
| 1500A | 40.5kw/380v | 1500x700x400mm | 1900x1050x1200mm |
| 2000A | 54kw/380v | 2000x700x400mm | 2350x1050x1200mm |